Type: Unimog S+C Tamper MTM700.
Built: Linz, Austria.
Build Number: 91655.
Engine: OM352.
Transmission: Manual Gearbox and Hydraulic.
Hydraulic System: 140 Bar (2030 PSI).
Unimog History.
Purchased from Grant Rail (now Volker Rail) by the York Area Group.
Believed to be fitted with a OM352 engine and front wheel drive in road mode. This machine has a single tamping unit that can transverse left and right by means of a hydraulic motor and chain drive. The Tamping Unit has hydraulically tilting tamping tines to enable positioning around Switch and Crossings.
On the underside are rail wheels, once positioned over the track, the rear end lowers onto the track. Transmission then provided by a hydraulic motor and chain drive to the rail wheels positioned in the centre.
A trolley (tower) is setup a few meters to the rear of the machine with measuring chords for measuring and controlling track lift.
Lift is achieved by the machine clamping to the rail, then large hydraulic jack push down on the ground lifting the track and the machine. Control of cross-level is achieved by independent control between the left and right hydraulic jacks.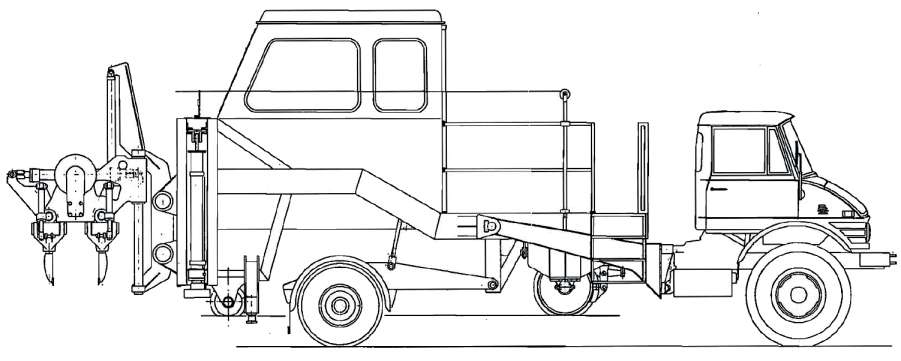 Although the engine runs, drives and everything appears to operate, there are a few missing components from the tamping unit. However these parts have now been identified and sourced. Furthermore, full parts list and manuals obtained, including an operators manual, however this is written in German.
Emphasis to the repair on this machine became delayed due to work focused on the Plasser Crane for important NYMR pway works. Also repairs and upgrade work to Tamper 73250 resulted in this machine not receiving required attention. Hopefully attention returns back to the Unimog in future putting it into service for working S+C on the NYMR.
After a lot of consideration and the fact we obtained 73307 which is a full sized S&C Tamper, it was decided to dispose of this machine and it has since been scrapped.