BORAIL B946060.
Status: In Traffic
Notes: 50T Borail Wagon. Built by Standard Wagon Co Manchester 1962. Arrived at the NYMR in September 1997, bought by The York Area Group.
This wagon is fitted with two "Stumec" side loading gantry cranes and is used for delivering new 60ft rails to site, and returning old scrap rails back to the P-Way depot for recycling.
These gantries are engine powered for lifting and lowering the rails, then hand operated with a manual hand crank winch for transverse positioning the rails over the side and on top of the wagon.
The end of the jib's have a hinged body with the rope end pulley so when on-site, they can be "flipped over" to reach beyond the width of the wagon to lift or lower rails near to the sleeper ends. These then "flipped back" to retracted position afterwards (as per picture) to ensure they are within load clearance gauge for transit moves along the railway line.
Both of the gantry units have recently undergone heavy repairs and overhaul, then re-certification and load testing, plus new modern engines. A simple but very effective way of deploying rails too and from various worksites on the NYMR.
---
FLATROL DB998014.
Status: In Traffic
Notes: 20T Loriot Wagon. Built by BR Swindon 1959. Arrived at the NYMR in August 2004, bought by The York Area Group.
Regarded as a "Machine Carrier" and used for transporting small to medium sized plant or equipment to worksites. This is ideal for items such as a mini or midi sized digger, dozer, flail or other items of plant required on a worksite in a remote location.
Very useful for delivering bulky and heavy items that is not accessible by road.
Used for carrying other bulky items as required due to the low level decking.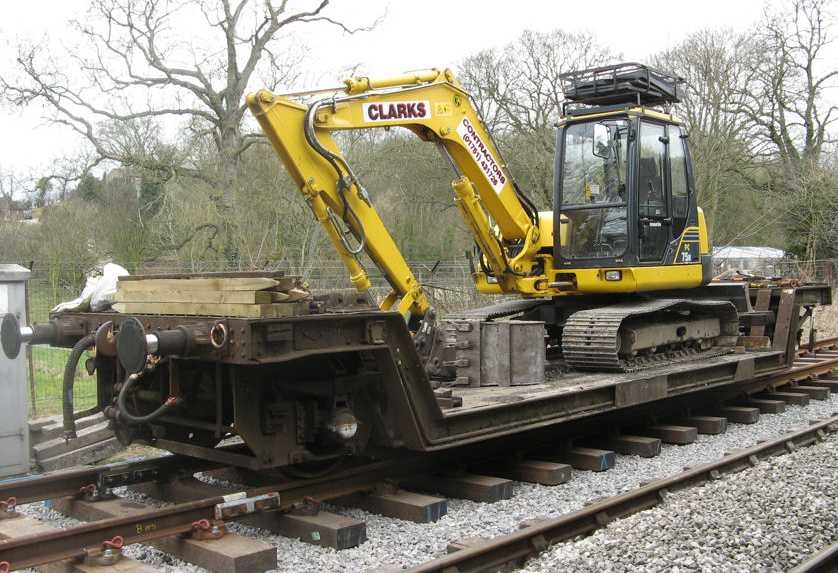 ---
Snowplough No 18.
Status: Available
Notes: Snowplough No 18. Built by NER York 1909. Arrived at the NYMR in August 1975, bought by a York Area Group member.
---